DEPTH Session 11
The musical DEPTH session 11 'The Expressions of Ragas through Instruments' took place at the Sabha Kaksh of Rajasthan Adult Education Association, Jaipur. It was an honor meeting and knowing the flute artist Pt. RD Gaur.
About Pt. RD Gaur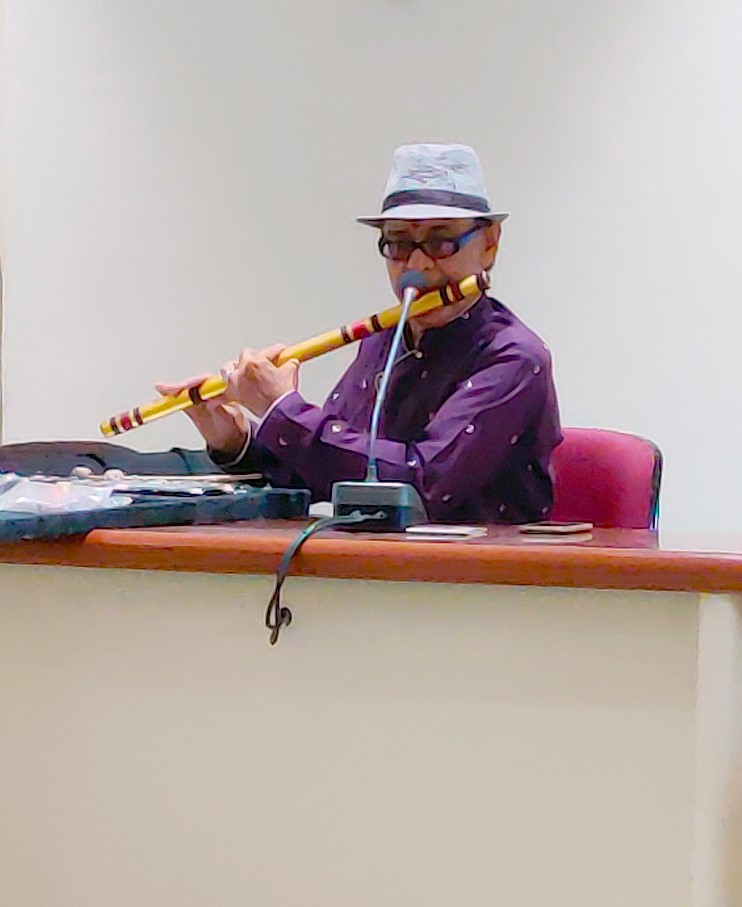 Pt. RD Gaur, is a renowned Flute artist from Jaipur, Rajasthan. Currently a Professor at University Maharani College, the artist is not practicing just the flute for 40 years but many musical instruments like Sitar, Jal Tarang, Harmonium, Mouth organ as well as a nearly extinct but significant instrument of Rajasthani folk music, 'Alghoza', for over 28 years.
Inspirations
The self-raised Flute artist, was born as a priest's son, in a small village of Rajasthan. Due to early demise of his father, he was raised by her mother in miserable conditions. He grew up seeing his mother singing soulful Bhajans on Manjiras, the mesmerizing cymbals of which became his inspiration and by the age of 6, he recognized a strong developing interest in music.
Beginning of Musical Journey
With a budding interest and urge to learn music, he visited the priest of village temple, who then looking at his enthusiasm, taught him play Harmonium and thereon became his very first Guru. At a very small age he began playing harmonium and singing Bhajans in temples and other village events and was appreciated by all. At times when he had no instruments to play, he used to produce those musical sounds from his own mouth. Gradually, his fascination grew towards learning flute, but then he had to shift to Jobner city for his further education in Science, which, due to financial limitations could not happen as expected. So he left the city and finally came down to Jaipur to acquire an expertise in flute. Thereafter, he struggled quite much in the new city and then on being not able to find a Guru in Jaipur, he decided to be his own Guru and made a start to his professional journey.
Experiences
Being in Jaipur, the artist initially performed flute on small platforms to earn a living while also did his left-off education, got skilled in another instruments, like Sitar, as well as learned painting and calligraphy from Rajasthan School of Arts. With his endless endeavor and practice, he earned the fortune to play flute in the famous song 'लम्बी जुदाई' of the movie 'Hero', being one of the dearly memorable moments of his lives. Besides he also played on various live platforms with renowned maestros like Pt. Ravi Shankar, Anoop Jalota, Jagjit Singh as well as on Radio, Television, and Doordarshan too. Not just this, his growing enthusiasm for music triggered his interest to learn 17 other musical instruments and today he is organizing workshops and teaching those melodious instruments to students and people of all age groups, from India and abroad.
About the Ragas
The artist then talked about the various Ragas in Indian Classical Music. He shared that all the Ragas have their origin in nature and belong with its gentle elements (wind, water, plants, birds, animals etc.) and climatic changes taking place. Ragas describe the melodious expressions of these natural changes. That is, Ragas are a musical medium to express the changing moods and behavior that nature arouses in the humans. These Ragas have different meanings, purpose and connections with definite times of the day which influences on our body, mind and life. They possess a bewitching capacity to develop various senses within us, which drives us to be able to recognize feelings of happiness, sadness, passion, rage and others. Thus its significant presence is essential in our lives and this is where the artist stressed on the vitality of Indian Classical music and our inclination towards it. An understanding of such Ragas opens a way to not only connect with our roots, but also with ourselves.
Here, he interpreted some of the Ragas by playing Folk and Bollywood melodies on flute.
Words of Wisdom
Lastly, on being asked about sharing words of wisdom for the youth and emerging artists, he threw light on the importance of practice or 'रियाज़', the zeal to learn more and the unconditional need of efficiency or 'दक्षता' and capability or 'क्षमता' with which the artist could connect his audience with the right emotions through art. He also mentioned about the essentiality of being passionate. Whatever the art is, and whichever be the stream, what drives an individual is his passion. It is the passion that irrespective of any facts, circumstances or availability of resources, keeps driving and motivating the artist to rise and excel. Work done with a positive attitude and strong passion is capable of developing true happiness inside the individual's core, thus giving him internal strength to rise even higher.
He thus concluded by quoting, "Success is that big door, distantly seen, which gets smaller when you conquer it. You are the key, reach there and open it."