DEPTH Session 8
It is rightly said that Art & Knowledge has a beginning but no end.
Our rendezvous with Shilpguru Artist Ghanshyam Nimbark at DEPTH session 8 was not just an encounter of his life's journey but a whole bunch of meaningful and inspiring lessons.
About Artist Ghanshyam Nimbark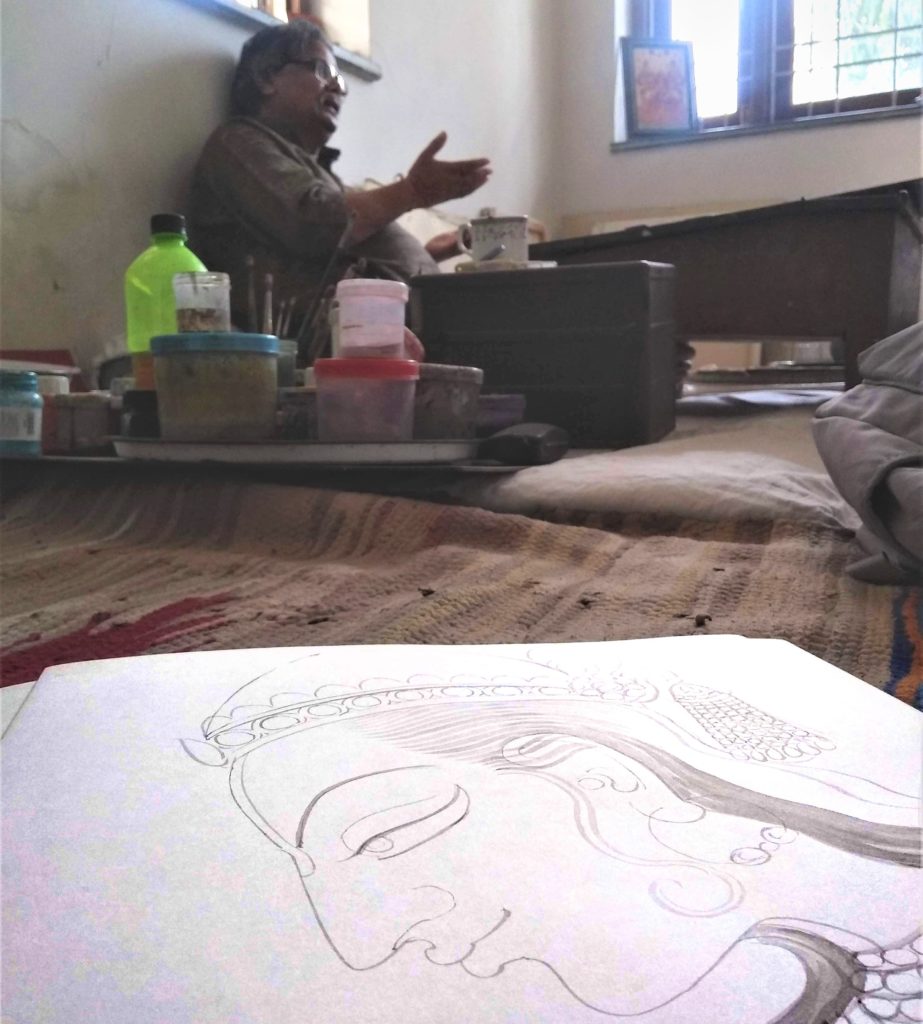 The self-raised artist took us to his childhood memories of discovering his forte. One day at school, when his Master gave him a 'Good' remark on his drawing, that was the moment which first drove him to create more than just good, rather, something great. After growing up he began to earn a living by making traditional illustrations in the natives' houses as ornamentation during the festivals. Post that he started making Tantric paintings on antique pages and selling them; which later he did on wooden planks, and thereafter he switched on to the Miniature art.
Of more than 40 years, the artist's journey was long, initially spent in looking for buyers for his paintings and also travelling between cities and states, carrying a world of endless creativity in his mind, zeal to learn & innovate in his heart and painting tools in his hands. All the while, he came across many people who helped his art evolve. One of those many was a small painter of number plates who deliberately came to him for work when one day the artist went to purchase paints. The artist appreciated his willingness and began teaching him painting. "He had a commendable speed", the artist said, while they made many artworks together thereon, working as a team. Artist Ghanshyam, a true nobleman, also supported this boy later in achieving higher career opportunity, without even caring of losing his only team member.
Besides, the artist also encountered that fine paint brushes were actually made with the hair of a living squirrel, which although being a big challenge never surpassed his passion for learning. That is why he never called his journey a struggle but a patient and youthful adventure which made him a master of art like Miniature, Fresco and Gilding work and also got him felicitated with the National Award in the year 1988. His famous combination of Blue and Gold in the Heritage hotels of Oberoi Group like Raj vilas and Trident at Jaipur, Amar vilas at Agra, Uday vilas at Udaipur, and Vanya vilas at Ranthambor as well as eminent artworks at Taj hotels in India & abroad are well recognized by all of us. And who could forget his big Black Krishna at the Jawahar Kala Kendra of Jaipur, Rajasthan!
Inspirations
While showing us his huge collection of paintings, art books & saved old illustrations, the artist expressed about how much he is inspired from the ancient Kailasa or Kailasanath temple, the unmatched structure in the world situated in the Ellora caves. Its single rock structure, substantial pillars, carved statues, symbols & inscriptions touch the deepest nerve of the artist, he says. Besides, he is also moved by the work of Michelangelo, the most incredible sculptor, painter, architect and poet of Italian Renaissance of the 16th century. The Sistine Chapel Ceiling being one of his spectacular creations has been the greatest inspiration of the artist among all the times.
The artist also acquires artworks of the diligent artists of royal courts who painted scenes of war & religious ceremonies of kings with incomparable precision regardless of the limitation of resources. It is important to think how incredible the imagination of those artists would have been that even without any cameras or such devices, they had thrived to capture the unflagging and unstable scenarios and paint them magnificently.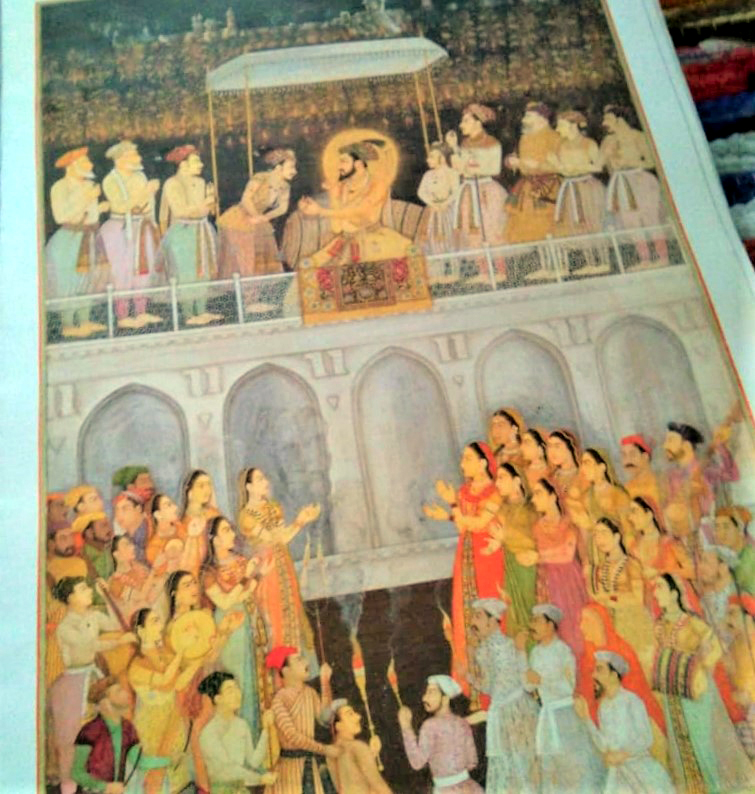 We can only guess those artists seemed to freeze those scenes in their heads, as we do using cameras today. Their timeless & precise works are capable enough to make one feel that he has done nothing till now while at same time stimulate him to excel and continuously strive to achieve the precision & imagination alike.
Teachings
The artist later added that "No art is new", all that an artist do is create something more and different out of the existing art he has witnessed in his life span. The need is to be passionate for and to enjoy what you do, as these are the key elements that keep going and rising. A person, be it artist or else will never feel bored or drained as long as he is doing what he enjoys, but if he feels so, then it means he never enjoyed it at all. And it amazed us when Artist Ghanshyam Nimbark associated it with his experience of sensing Yoga while painting. He said, "I feel like practicing Pranayam (a yogic discipline associated with breath control) with every brush stroke I paint, and it keeps me concentrated, keeps me motivated." Well! What could be more indulging!
In the conversation, the artist also shared about his rendezvous with former US President Mr. Bill Clinton and his family, who visited India and couldn't resist exploring & appreciating his collection of amazing creations. It was indeed a proud moment for all of us to be a part of the nation that is blessed with such artists.
Even after being elderly, the artist practices painting every day, he draws and paints whatever comes in his mind, derives shapes, forms and patterns from the existing ones and calls it true enjoyment. He has been earnestly making efforts to spread and teach his art to as many learners as he could, worldwide. Having great enthusiasm for Indian art & architecture, he motivates us to impart those elements of traditional significance in our designs so that we can all contribute in keeping our traditional art and heritage alive.
The artist's stature has never impacted his simplicity and ingenuousness which is why, working with him has been truly amazing for us. We desire to keep getting this fortune in future too, and also look forward to see more of his valuable contribution for the country's heritage. Artists like him unquestionably deserve a Padma Shri honor.