DEPTH Session 5
What is Music?
Even though we are constantly exposed to music in our daily lives, we rarely stop to actually think about what it is. For some, it merely means a combination of sounds or words, a source of entertainment; while on the other hand, it may be a way of living for some. Does music have an exact definition?
In the recent musical DEPTH session with honorable Pt. Chandra Mohan Bhatt, our team got the opportunity to get enlightened with his intense knowledge about Indian classical music and more.
About Pt. Chandra Mohan Bhatt
Pt. Shri Chandra Mohan Bhatt was born into a family of musicians, poets, and Sanskrit scholars who for five generations upheld their tradition in Rajasthan. His forefathers migrated from the south of India to Rajasthan (northwest), a princely state then, to seek employment in the "Gunijankhana" (department of learned scholars) of the Maharaja of Jaipur. Pt. Chandra Mohan, son of Late Pt. Shashi Mohan Bhatt (a distinguished Sitarist) is an eminent classical music instrumentalist/Sitarist of Rajasthan. He has been teaching Sitar in Jaipur for several years and has done many solos and group shows countrywide.

His music is noted for its virtuosity, originality, and depth of feeling that is conveyed to the listeners.
What is the importance of Music in our life?
He began the session by elaborating what music is! Music is a beautiful blend of 'Gaayan' or Singing, 'Vaadan' or Playing music and 'Nrityam' or Dancing, he said. He also expressed that technically, music may mean a combination of the 3 but actually it is much more than that. He did not even stay back from telling us about the various 'Raaga' of Indian Classical Music. While talking about the composition of music, he said that 'Kalpana' or 'to imagine' is the foremost in the composition of a soulful melody. Imagination helps a musician to derive the right emotions from his core and guides him to convert those emotions into the 'Swara' or music notes. These notes, when released from the rhythmic devices, can prompt a psychological state in the listener, because of which he feels connected and experiences the same emotions as felt by the musician.
Music has become an essential part of our lives. We listen to it right from waking up in the morning to the time of going to bed. It travels with us wherever we go, like a constant companion. It has the ability to bring us joy, motivate us, accompany us through difficult times, and alleviate our worries. Music has the power to heal every human being, would he be a child, an adult, men, women, or anyone. It plays a great role in changing a person's mood, makes a crying infant sleep happily through a lullaby and even helps a person dig deep into emotions.
And not only does music touch us intellectually and emotionally, but also spiritually or magically. It moves us to have a rendezvous with ourselves, be our mirror, and show us a side of us we may have long forgotten or never knew it existed.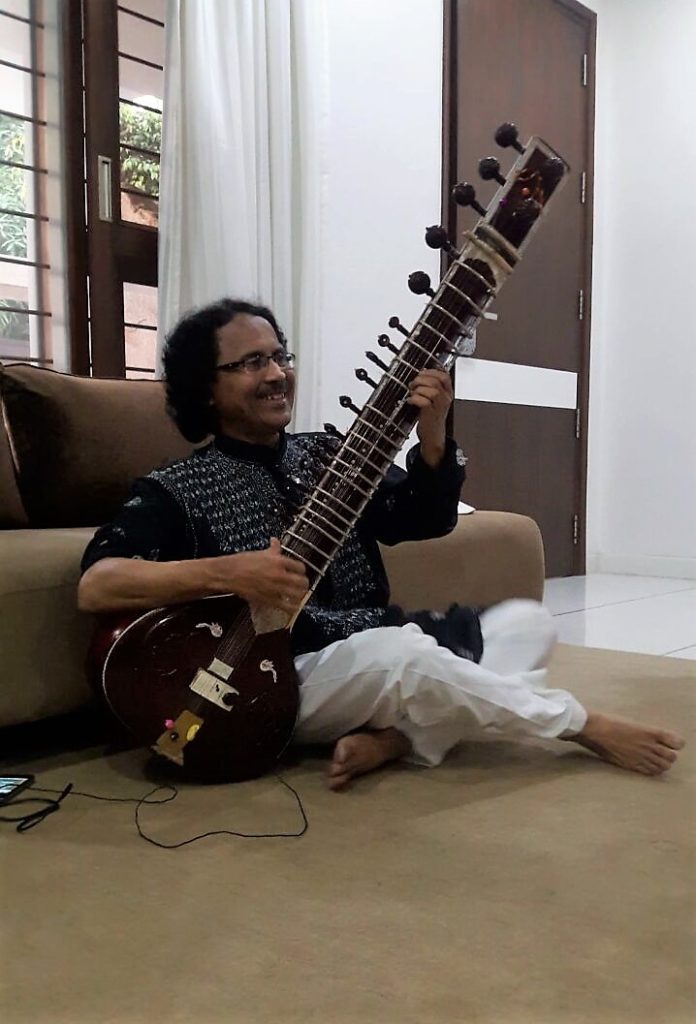 An interesting thing, he said was, that music exists in all of us, and everyone endures a different kind of music; maybe that's why we often have different tastes or some people connect with a particular style while some connect with the other. We just have to recognize the music within us so as to recognize ourselves and bring happiness into our lives.
Later, the musician stressed that soft music should appertain in the classrooms during the lectures. This will help improve the learning experience of the students and increase their concentration level too. Besides, adding music to the course plan of schools/colleges will not only increase a student's understanding and appreciation of music but also aid in reducing his stress.
Pt. Chandra Mohan Bhatt brought down the curtain by performing many melodious tunes on Sitar.
The Conclusion of this Session
It's extraordinary to think that a simple vibration unseen by the human eye can do things that are beyond words to describe and leave us with timeless life experiences. We believe that architecture and music are correlated. The relation lies in the feeling with which they are composed and the feeling they provoke. For instance, when we close our eyes and listen to some melodies, we can identify the emotions the musician has tried to pour into it and we gradually become able to experience the same. Similarly, when we visit a space or touch its surface, its architecture attempts to deliver the emotion/ reason space was created with, through the colors, textures, rhythm, and harmony it persists. In simple words, just like a musician attempts to contributes all the right emotions to compose a mesmerizing tune, an architect does the same to create timeless spaces which we ultimately end up connecting with. And somewhere, like music, it makes us come across our souls, feel entirely whole, healed and intact.
"Architecture produces a musical mood in our inner being, and we notice that even though the elements of architecture and music appear to be so alien in the outer world, through this musical mood engendered in us, our experience of architecture brings about reconciliation, a balance between these two elements."

Rudolf Steiner